Are you interested in wearing cosmetics for the first time because everybody at school does? As a beginner, it can prove overwhelming to choose and learn how to apply makeup. Remember, though, that even the best makeup artists started out feeling the same way. To help you get started, it's a good idea to get yourself some basic makeup essentials. You don't have to buy the most expensive makeup and other accessories to learn what makeup for teens look best on you. Your goal is to make the process as simple and less complicated as possible.
Basic Makeup Essentials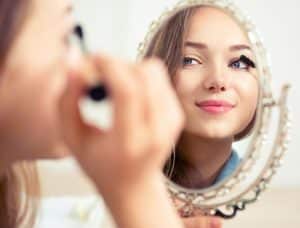 The easiest way to learn more about cosmetics as a teen is to invest in a basic makeup essentials kit. This kit already contains everything you need to start experimenting with different looks. Of course, you still need to look for quality cosmetics even for your everyday makeup routine. Going to cheap could only lead you to frustration. The following are some of the things you should have in your makeup essential checklist:
• Foundation
• Concealer
• Highlighter set
• Eyeshadow Palette
• Eyeliner
• Lipstick
• Mascara
• Makeup brush set
• Makeup bag
The importance of having the right cosmetics to use every day couldn't be understated. And since you are just starting out, make it a habit to read the ingredients list. This helps you determine whether the cosmetics contain ingredients that could be bad for your skin. If you do not have enough money to buy an entire kit, there is nothing wrong with buying one item at a time until you fill your personal beauty of bag with all the essentials.
Prepare Your Face
As a beginner, it's natural to feel excited to just jump straight to applying makeup without an idea of what to do. You should know that preparing your face is the first thing you should do it for applying makeup. If there are lots of oil and dirt on your face, you will just make the process doubly difficult.
If you're using sunscreen, be sure to apply it before any other skin products. Let it sit for a few minutes before using makeup.
Start with Face Makeup
The foundation is called as such for a reason. It serves as the foundation around which your entire look will be anchored on. The foundation you choose should match your neck to ensure that your face and neck do not have different colors.
The next step is to use a concealer to hide problem areas. In general, you should choose a concealer that is one shade lighter than your skin.
When it comes to applying blush, your skin tone plays an important role in selecting what type to use. A light pink blush works well on those who have pale or light skin. For dark skin, a plum blush offers a more natural look.
To complete your look, it's time to apply eye and lip makeup. Start out by defining your eyebrows. An eyebrow pencil helps with filling in thin or patchy eyebrows. Again, pick the color closely resembles your natural hair color.
Of course, you wouldn't want to forget about your eyelashes. Brush on mascara that isn't darker than your eyelash color. If you're going for a natural look, one coat should be plenty.
The last step is to apply lipstick or lip gloss. The color you choose should be as close as possible to the natural color of your lips. One useful makeup for teens trick is to apply one coat of lipstick, dab some of using a tissue and apply one coat of lip gloss.