Most women are shifting to natural makeup from synthetic products due to the long-term side effects of the latter. Many synthetic makeup products contain harmful ingredients. These ingredients can harm your skin over time. The latest research reveals that some of these beauty products contain endocrine disrupting chemicals (EDCs). These chemicals can interfere with your hormonal system.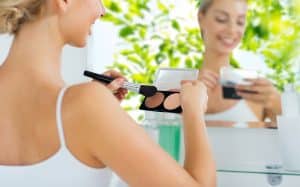 Certain skin cancers are hormonally-driven according to these studies. Hence, large doses of such products should cause concern if you use them on a daily basis. That's why you need to wear a light makeup compared to a heavy makeup. On the other hand, a light makeup looks more natural on your skin. Here are some of the best natural makeup tips to enhance your beauty.
With the right techniques, you can make the most of your natural beauty regimen without wearing a ton of makeup. A great makeup starts with a fresh-looking skin. You should start by washing, toning, and moisturizing your face. Make sure you drink a lot of water to plump up the skin from the inside. The skin cells are made up of water. Hence, if you don't drink enough water, it will show on your skin. In fact, your skin will look and feel dry. But you shouldn't ignore your sunscreen just because you are going natural. Make sure you apply an oil-free sunscreen that has an SPF of 30.
Applying the makeup with your fingers instead of a brush creates a more natural look. Skip the heavy foundation when applying the makeup. Make sure you wash the fingertips before applying the makeup. Finish the makeup by applying translucent powder around the nose, forehead, and chin. There is no need to go overboard on concealers. Use only a small amount to cover imperfections on the face. A liquid highlighter is the best way to make your skin look refreshed. Save the red lipstick for a special night. Make sure you use a natural shade for your lips.
If you want the eyes to look more awake without using an eyeliner on them, apply brown eyeshadow around the lash line with a tiny pointed eyeshadow brush. Clean it up with a little concealer after that. The highlighter is an important component in your makeup kit. A highlighter can enhance the appearance of facial features without overexaggerating any of them. Use the highlighter on the top of your cheekbone, on the inside corner of your eyes, and the brow bone. It will add life to your face and make it look hydrated and awake. These are some of the best natural makeup tips to enhance your beauty.
Most women prefer a light natural makeup compared to a heavy makeup. Synthetic makeup products are not the best for your skin. Large doses of such makeups can cause undesirable effects over time. That's why you should opt for a light makeup. Such a makeup will enhance your natural looks and beauty. The above tips will help you make the most of your natural makeup.